Which Model Models Best?
Resources for this lesson:
> Glossary


> Calculator Resources


> Teacher Resources: Instructional Notes

Let's check your understanding of modeling data sets with functions.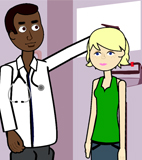 Allyson goes to the doctor for her physical exam to play soccer.  At the doctor's office, her doctor measures her height and shows Allyson the growth chart for girls ages 2-18.  Allyson sees that the average girl has the following heights:
Average Height of Girls
Age
(years)

Average Height
(inches)

2

34

4

41

6

47

8

51

10

54

12

59

14

61.5

16

64

18

64.5
Create and Analyze
Create a scatter plot and determine which function type may be the best fit for the data set, using the Shodor Applet

or using your graphing calculator. Visit the Calculator Resources section for information about how to use your calculator and alternative calculator resources for accessibility.
When ready, move to the next page.