Making Deviation Standard
Resources for this lesson:
> Glossary


> Calculator Resources


> Teacher Resources: Instructional Notes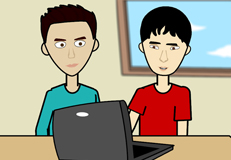 Andrew and Khalid are learning about the presidents of the United States and their major accomplishments. In their research, the boys discover President Lincoln dedicated much of his presidency to keeping the United States unified and to abolishing slavery. He succeeded in both, preserving the union by being an unfaltering commander in chief during the Civil War and getting Congress to pass the 13th Amendment to the Constitution, which abolished slavery.
Let's take a look at this situation:
Khalid found out that President Lincoln's presidency consisted of one full four-year term, and a second term that lasted only 42 days. Upon further research, he discovered the shortest serving president was President William Harrison, who served only 31 days.
Andrew begins to wonder more about the lengths of each presidency. If President Harrison's term was the shortest, who held the longest term? Together, Andrew and Khalid create the following table using data up to 2014.
| President | Number of Terms in Office | Number of Years Served | Number of Days Served |
| --- | --- | --- | --- |
| 1. G. Washington | 2 | 6.34 | 2865 |
| 2. J. Adams | 1 | 4 | 1460 |
| 3. T. Jefferson | 2 | 8 | 2922 |
| 4. J. Madison | 2 | 8 | 2922 |
| 5. J. Monroe | 2 | 8 | 2922 |
| 6. J. Q. Adams | 1 | 4 | 1461 |
| 7. A. Jackson | 2 | 8 | 2922 |
| 8. M. Van Buren | 1 | 4 | 1461 |
| 9. W. H. Harrison | 1 | 0.08 | 31 |
| 10. J. Tyler | 1 | 3.92 | 1430 |
| 11. J. Polk | 1 | 4 | 1461 |
| 12. Z. Taylor | 1 | 1.33 | 491 |
| 13. M. Fillmore | 1 | 2.67 | 969 |
| 14. F. Pierce | 1 | 4 | 1461 |
| 15. J. Buchanan | 1 | 4 | 1461 |
| 16. A. Lincoln | 2 | 4.11 | 1503 |
| 17. A. Johnson | 1 | 3.86 | 1419 |
| 18. U. Grant | 2 | 8 | 2922 |
| 19. R. Hayes | 1 | 4 | 1461 |
| 20. J. Garfield | 1 | 0.54 | 199 |
| 21. C. Arthur | 1 | 3.46 | 1262 |
| 22. G. Cleveland | 1 | 4 | 1461 |
| 23. B. Harrison | 1 | 4 | 1461 |
| 24. G. Cleveland | 1 | 4 | 1461 |
| 25. W. McKinley | 2 | 4.5 | 1654 |
| 26. T. Roosevelt | 2 | 7.5 | 2728 |
| 27. W. H. Taft | 1 | 4 | 1461 |
| 28. W. Wilson | 2 | 8 | 2922 |
| 29. W. Harding | 1 | 2.42 | 881 |
| 30. C. Coolidge | 2 | 5.58 | 2041 |
| 31. H. Hoover | 1 | 4 | 1461 |
| 32. F. D. Roosevelt | 4 | 12.08 | 4422 |
| 33. H. Truman | 2 | 7.75 | 2840 |
| 34. D. Eisenhower | 2 | 8 | 2922 |
| 35. J. F. Kennedy | 1 | 2.83 | 1036 |
| 36. L. Johnson | 2 | 5.17 | 1886 |
| 37. R. Nixon | 2 | 5.5 | 2027 |
| 38. G. Ford | 1 | 2.42 | 895 |
| 39. J. Carter | 1 | 4 | 1461 |
| 40. R. Reagan | 2 | 8 | 2922 |
| 41. G. H. Bush | 1 | 4 | 1461 |
| 42. W. Clinton | 2 | 8 | 2922 |
| 43. G. W. Bush | 2 | 8 | 2922 |
| 44. B. Obama | 2 | (still completing term in 2014) | (still completing term in 2014) |
Check Your Understanding